Appreciate a mix of comfort and freedom with a travel trailer. Our travel trailer has several wonderful features for you to enjoy the outdoors
Will you deliver the trailer?
Yes, we offer travel trailer deliveries south to Summerland, North to Vernon and East to 8 Mile Ranch. Estimated prices include 2 trips and 1 hour total for setup/takedown.
Within Kelowna City Limits – $100
Estimated Costs for deliveries outside Kelowna
Exact costs will be determined once exact destination is provided
North
Lake Country – $150
Oyama – $175
Vernon – $275
South
West Kelowna – $150
Peachland – $225
Summerland – $325
East
Heartland Ranch (8 Mile Ranch) – $125
Delivery outside these zones can be done through a third-party towing company. Cost range from $1.25 to $1.50/km plus time for setup/takedown.
Is it possible to pull the trailer myself?
Absolutely. Your vehicle must have a tow package (Auxillary Brake & Electrical Harness) installed and be rated for towing a travel trailer (see your owners manual). The Gross Vehicle Weight of each trailer is listed in the table below and on the trailer pages.
Will you make the reservation to a campground for me?
All renters must make their own arrangements for campground reservations. Please see our Camping Links for resources on campgrounds throughout BC.
Below is our inventory of travel trailers to rent:
19′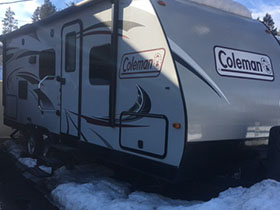 Couple or Small Family
$140/nt
24′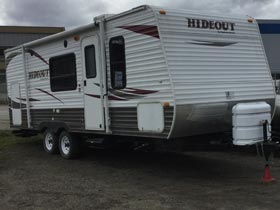 Small Group or Family
$140/nt
26′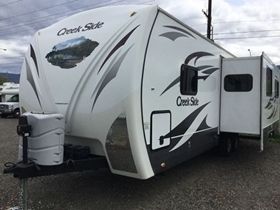 Small Group or Family
$185/nt
28′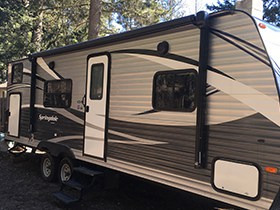 Large Group or Family
$185/nt