Spacious mobility. When you need a little more space but still want the ability to get around with ease then a mid-sized motorhome is ideal for you. These units are furnished with a kitchenette, dining area, bathroom and queen sized bed and overcab queen sized bed. A mid-sized motorhome is perfect for a small group or family
*Floorplans vary based on unit.

No Pets Allowed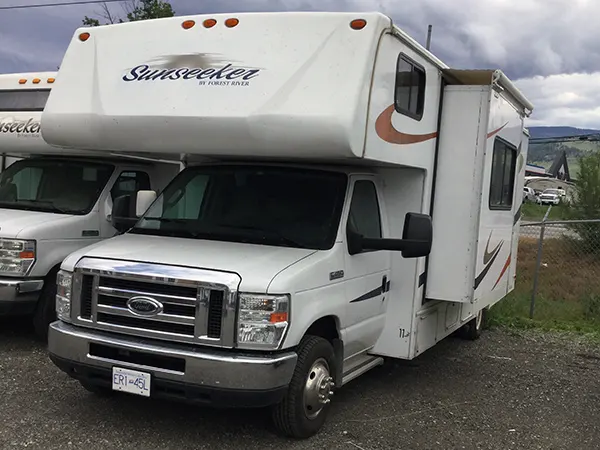 Black and Gray Water Tanks
Note: RVR Kelowna has multiple units with different styles and configurations. Actual unit may look different than photos.
Frequently Asked Questions
The inventory for each unit includes the following kitchen set:
Coffee Maker
Toaster – 2 Slice
Tea Pot
Kettle
Coffee Pot – Perc.
6 Each Dinner Plates, Snack Plates, Bread & Butter Plates & Bowls
6 Each Coffee Cups, 6 Large Glasses, 6 Small Glasses, 4 Wine Glasses
Salt & Pepper
Cutting Board
Water Jug
Plastic Containers
Large Bowls, Colander, Grater
Each Knives, Forks, Dinner Spoons & Teaspoons
Steak Knives
Kitchen Knives – Set
Spoon, Slotted Spoon, Ladle, Lifter, Tongs
Potato Masher, Fork, Whisk, Pastry Brush, Spatula
Lighter
Each Can Opener, Cork Screw, Potato Peeler, Scissors
Set Measuring Cups, Set Measuring Spoons
Small and Large Fry Pans
Small and Large Pots
Placemats
Tablecloth & Hooks
Oven Mitts
Drain Tray
Outdoor Carpet
Broom & Dustpan
We generally don't offer motorhome deliveries at this time. Availability is very limited. However, you can contact us to ask if your time is available.
Note: Delivery is performed by a third-party delivery service. A motorhome delivery requires two drivers and an additional vehicle. Costs may start at $15/km with a $300 minimum.
While we have occasionally performed one way trip pickups, we have VERY limited availability for this option.
Additional charges will include expenses such as additional rental days, transportation (e.g. flights and travel to unit), fuel, etc.
Call us at 844-760-0004 or contact us to request availability and a quote.
Pick up time: 1pm to 4pm
Return time: 9am to 11am
(No refunds for early returns)
Late returns will be charged at $75/hr (or portion of an hour) until 3pm and then $150/hr (or portion of an hour) until it's returned.
All RV units are prohibited from traveling on dirt roads (excluding campground roads).
We do make some exceptions where traveling on short sections of dirt roads are necessary to reach a Campground. (e.g. Mabel Lake Provincial Campground)
Renters are responsible for any damages of RVs.
Low Season (Apr 1 to Jun 14, Sept 8 to Oct 31)
$215/night - Min. 3 nights
$20/night discount for rentals longer than 7 nights
High Season (Jun 15 to Sept 7)
$265/night - Min. 5 nights
$20/night discount for rentals longer than 7 nights
Rental Deposit: 25% of rental amount or $150 (whichever is greater)
Security Deposit: $1000 (your credit card will be authorized 2 days prior to departure)