Spacious mobility. When you need a little more space but still want the ability to get around with ease then a mid-sized motorhome is ideal for you. These units are furnished with a kitchenette, dining area, bathroom and queen sized bed and overcab queen sized bed. A mid-sized motorhome is perfect for a small group or family
Units range from 2013 to 2016 models
*Floorplans vary based on unit.

No Pets Allowed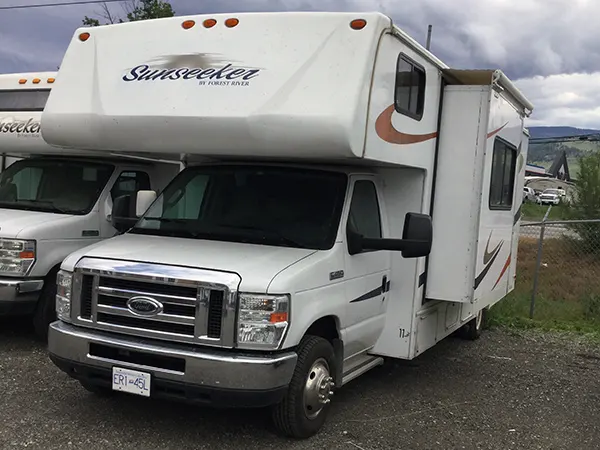 Black and Gray Water Tanks
Note: RVR Kelowna has multiple units with different styles and configurations. Actual unit may look different than photos.
Explore the exciting optional add-ons available to choose from that can enhance your trip and make it even more memorable. There's sure to be an add-on that sparks your interest and gets you even more excited for your upcoming RV adventure.
Note: Select Your Addons During Checkout
$60 per Rental
Linen and Towels Kit
Includes: 2 pillows and cases, 1 fitted sheet, 1 flat sheet, comforter, 2 bath towels, 2 hand towels, and 2 facecloths
$3 per Day
1 Person Hammock
Includes: Hammock, tree straps and carabiners.
Super popular with kids
$4 per Day
Kelty Camping Chair
Includes: Chair and carrying case
High quality, comfortable chair is perfect for relaxing by the campfire.
$10 per Day
Portable Coleman BBQ
Includes: BBQ and 1 bottle of propane
Large grill space for cooking
Low Season (Apr 1 to Jun 14, Sept 8 to Oct 31)
$215/night - Min. 3 nights
$20/night discount for rentals longer than 7 nights
High Season (Jun 15 to Sept 7)
$265/night - Min. 5 nights
$20/night discount for rentals longer than 7 nights
Rental Deposit: 25% of rental amount or $150 (whichever is greater)
Security Deposit: $1000 (your credit card will be authorized 2 days prior to departure)
Important Times to Note:
Pick-Up: 1pm to 4pm
Return/Drop-off: 9am to 11am
Need More Time?
Early Pick-Up - $75 (Pick-up at 11am)
Late Drop-Off - $75 (Drop-off by 2pm)
Get Both - $100
Selectable on the "addons" page of your booking
*Applicable to Motorhomes Only*
Mileage
Included: 150km/day
Overage Costs: $0.42/km
Pre-Paid extra mileage as low as $0.34/km
See "addons" page for options