26′ Keystone Passport 219BHWE Trailer
This modern style trailer is perfect for families. Furnished with an outdoor kitchen and shower, kitchenette, dining area, bathroom, as well as a queen sized murphy bed, a dinette that converts to a double bed and a bunk bed.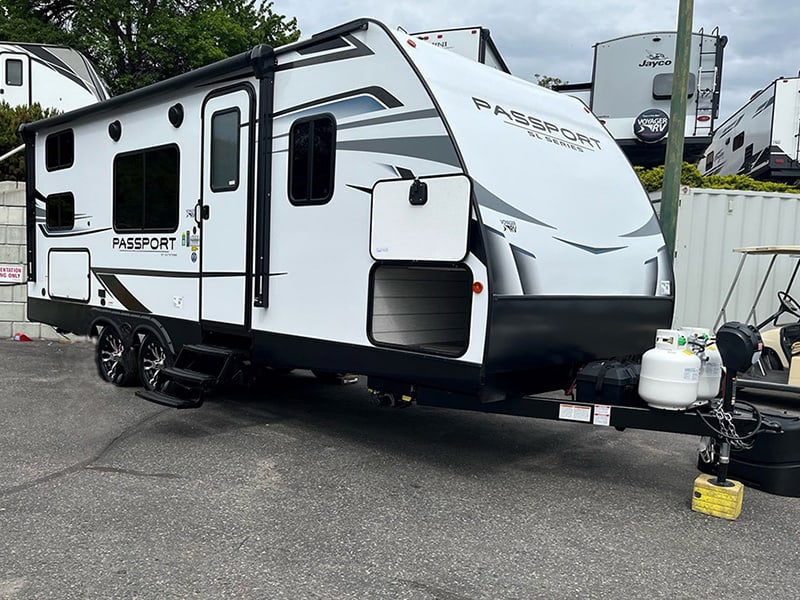 Fresh Water - 204L (54 gal)

Gray Water - 143L (38 gal)

Black Water - 143L (38 gal)

Gross Vehicle Weight Rating
Bathroom with Tub & Shower

Generator Rental Available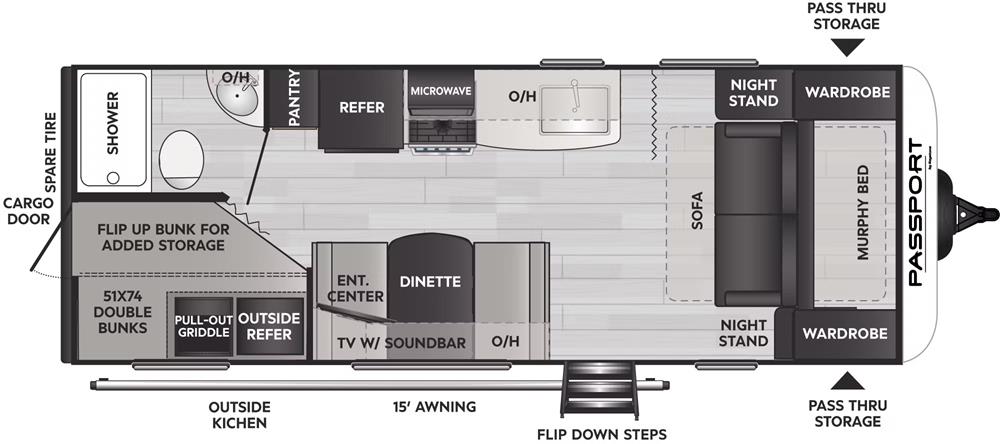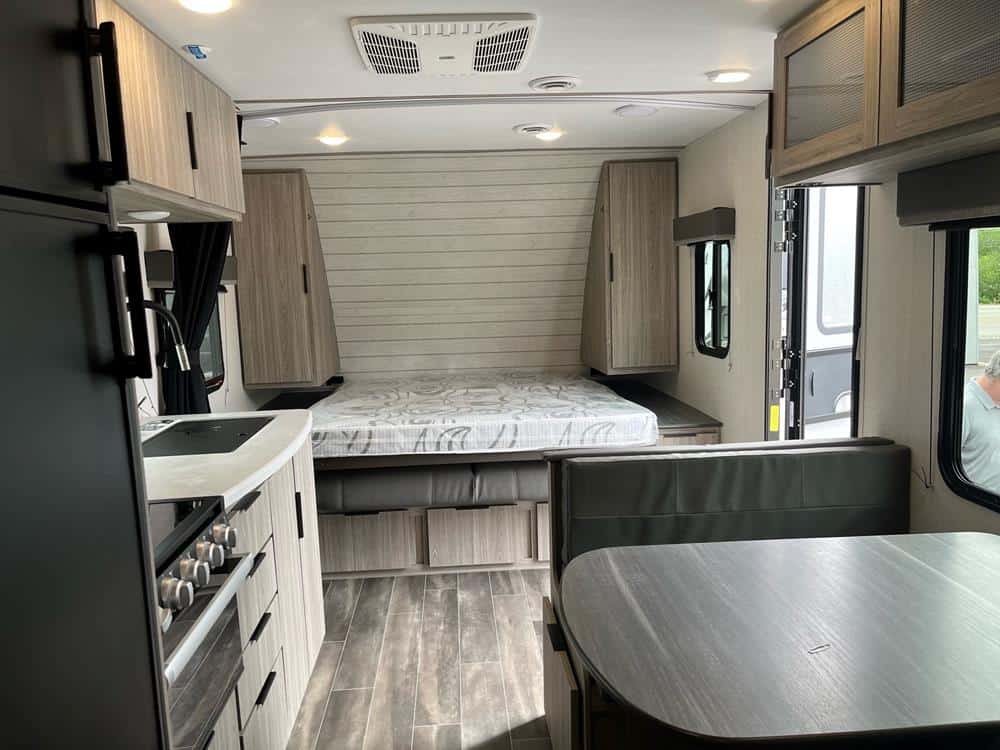 Frequently Asked Questions
Yes, we offer travel trailer deliveries up to 200km from our office.
Cost for delivery is tiered
Minimum $150
$6/km for 25 to 100km
$5/km for 101 to 200km
For a drop-off and pickup with a minimum of $150.
Mileage is calculated at double the distance from the RVR Kelowna office to the final destination for each trip.
Approximate Costs
Kelowna City Limits (Excl. Kettle Valley and Upper Mission) = $150
Fintry Provincial Park (Approx. 56km) = $336
Mable Lake Provincial Park (Approx. 101km) = $505
Kettle River Recreation Area (approx. 135km. ) = $675
Prices include 2 round trips and 1 hour total for setup/takedown.
Most deliveries are performed by a third party delivery service. 
Brakes are required if the trailer exceeds 1400 kg, or more than 50% of the licensed vehicle weight of the towing unit. When brakes are required, they must be on all axles and there must be an operational breakaway on the trailer in case the towing unit and trailer separate while being towed.
Check your vehicle's owner manual to confirm
Rent a Brake Controller
If you do not have a brake controller then you can rent a controller from RVR Kelowna @ $75/rental
All you need is a 7 pin connector.

See details about the controller in this video.
The ball size required to haul this trailer is 2 5/16".
If you require a hitch and ball, we have them available for rent. See the Add-ons Section during booking.
Pick up time: 1pm to 4pm
Return time: 9am to 11am
(No refunds for early returns)
Late returns will be charged at $75/hr (or portion of an hour) until 3pm and then $150/hr (or portion of an hour) until it's returned.
Coffee Maker
Toaster – 2 Slice
Tea Pot
Kettle
Coffee Pot – Perc.
8 Each Dinner Plates, Bread & Butter Plates & Bowls
8 Each Coffee Cups, 6 Large Glasses, 6 Small Glasses
4 Wine Glasses
1 Salt & Pepper
2 Cutting Boards
1 Water Jug
3 Plastic Containers
3 S/S Bowls
1 Colander, 1 Grater
8 Each Knives, Forks, Dinner Spoons & Teaspoons
8 Steak Knives
4 – Knife Set
2 Spoons, 2 Tongs, 2 Turners, 2 Spatulas
1 Slotted Spoon, 1 Ladle, 1 Potato Masher
1 Pasta Fork, 1 Fork, 1 Whisk, 1 Pastry Brush
1 BBQ Lighter
1 Each Can Opener, Cork Screw, Potato Peeler, Scissors
1 - Measuring Cup, 1 Set Measuring Cups, 1 Set Measuring Spoons
1 - 12" Fry Pan, 1 – 10" Fry Pan
1 - 8' Fry Pan
1 - 12" Pot
1 - 6" Pot, 1 – 9" Pot
4 - Placemats
Tablecloth & Hooks, Oven Mitts
2 Tea Towels, 2 Dish Cloths
Drain Tray
Outdoor Carpet
Broom & Dustpan
Toilet Bowl Brush
Low Season (Apr 1 to Jun 14, Sept 8 to Oct 31)
$150/night - Min. 3 nights
$10/night discount for rentals longer than 7 nights
High Season (Jun 15 to Sept 7)
$165/night - Min. 5 nights
$10/night discount for rentals longer than 7 nights
Rental Deposit: 25% of rental amount or $150 (whichever is greater)
Security Deposit: $1000 (your credit card will be authorized 2 days prior to departure)
Dog Cleaning Fee: If you are bringing a dog, a $25/nt cleaning fee will be added.
Important Times to Note:
Pick-Up: 1pm to 4pm
Return/Drop-off: 9am to 11am
Need More Time?
Early Pick-Up - $75 (Pick-up at 11am)
Late Drop-Off - $75 (Drop-off by 2pm)
Get Both - $100
Selectable on the "addons" page of your booking