13ft Jayco Sport 10SD Tent Trailer
SUV towable ultra-light tent trailer rental with dining area, heated queen and double sized beds, fridge and sink. The tent trailer is perfect for a small group or family.

No Pets Allowed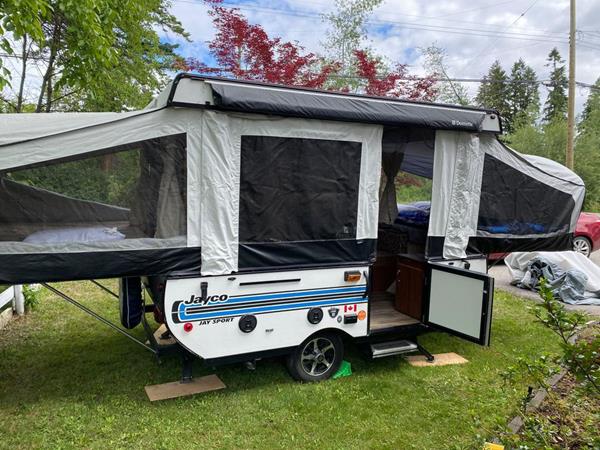 Fresh Water - 106L (28 gal)

Gray Water - 95L (25 gal)

Closed Exterior Height - 4'9"

Open Interior Height - 6'9"

Gross Vehicle Weight Rating
Dinette Converts to a Single Bed

Generator Rental Available
Frequently Asked Questions
Yes, we offer travel trailer deliveries up to 200km from our office.
Cost for delivery is tiered
Minimum $150
$6/km for 25 to 100km
$5/km for 101 to 200km
For a drop-off and pickup with a minimum of $150.
Mileage is calculated at double the distance from the RVR Kelowna office to the final destination for each trip.
Approximate Costs
Kelowna City Limits (Excl. Kettle Valley and Upper Mission) = $150
Fintry Provincial Park (Approx. 56km) = $336
Mable Lake Provincial Park (Approx. 101km) = $505
Kettle River Recreation Area (approx. 135km. ) = $675
Prices include 2 round trips and 1 hour total for setup/takedown.
Most deliveries are performed by a third party delivery service. 
A trailer brake controller is NOT Required for this Tent Trailer as the trailer does not have brakes.
The ball size required to haul this trailer is 2".
If you require a hitch and ball, we have them available for rent. See the Add-ons Section during booking.
Pick up times are 1pm to 4pm.
Drop off times are 9am to 11am.
Early pickup (10am) and late dropoff (2pm) is available for an additional charge. You can choose your time during booking.
If you wish for an early pick-up please contact us at least 48 hours prior to departure. Early pick-ups are subject to an additional charge.
Note: Pick-ups the night before are subject to an additional nights rental and subject to availability.
Toaster - Campstove
Kettle – Stove Top
Coffee Pot – Perc.
4 Each Dinner Plates, Bread & Butter Plates & Bowls
4 Each Coffee Cups, Large Glasses, Small Glasses
3 - Plastic Containers W/Lids
1 Colander, 1 Grater
3 - S/S Bowls
4 Each Knives, Forks, Dinner Spoons, Teaspoons & Steak Knives
4 Knives (Set)
1 Each Turner, Spoon, Ladle, Slotted Spoon, Potato Masher
1 Fork, 1 Whisk, 1 Pastry Brush
2 Tongs, 2 Spatulas
1 BBQ Lighter, 1 Scissors
1 Each Can Opener, Cork Screw, Potato Peeler
1 - Measuring Cup
1 - Water Jug
1 - Salt & Pepper
1 - 12" Pot
2 - 6" Pots
2 - 8" Fry Pan
1 -12" Fry Pan
2 - Cutting Boards
4 - Placemats
Tablecloth & Hooks
Oven Mitts
Toilet Bowl Brush
Dish Drain
Broom & Dustpan
Outdoor Carpet
Explore the exciting optional add-ons available to choose from that can enhance your trip and make it even more memorable. There's sure to be an add-on that sparks your interest and gets you even more excited for your upcoming RV adventure.
Note: Select Your Addons During Checkout
$60 per Rental
Linen and Towels Kit
Includes: 2 pillows and cases, 1 fitted sheet, 1 flat sheet, comforter, 2 bath towels, 2 hand towels, and 2 facecloths
$3 per Day
1 Person Hammock
Includes: Hammock, tree straps and carabiners.
Super popular with kids
$4 per Day
Kelty Camping Chair
Includes: Chair and carrying case
High quality, comfortable chair is perfect for relaxing by the campfire.
$10 per Day
Portable Coleman BBQ
Includes: BBQ and 1 bottle of propane
Large grill space for cooking
Low Season (Apr 1 to Jun 14, Sept 8 to Oct 31)
$110/night - Min. 3 nights
$10/night discount for rentals longer than 7 nights
High Season (Jun 15 to Sept 7)
$125/night - Min. 5 nights
$10/night discount for rentals longer than 7 nights
Rental Deposit: 25% of rental amount or $150 (whichever is greater)
Security Deposit: $1000 (your credit card will be authorized 2 days prior to departure)
Important Times to Note:
Pick-Up: 1pm to 4pm
Return/Drop-off: 9am to 11am
Need More Time?
Early Pick-Up - $75 (Pick-up at 11am)
Late Drop-Off - $75 (Drop-off by 2pm)
Get Both - $100
Selectable on the "addons" page of your booking