Mid Class C Luxury Motorhome
Get ready for your next adventure in style with comfort and convenience in mind. This brand new latest model is furnished with a kitchenette, dining area, bathroom, an overcab queen sized bed, a sofa that converts to a bed and a dinette that converts to a bed. Also has an oversized fridge, convection microwave and wrapped kitchen layout.
This mid-sized motorhome is perfect for a small family or small group.
*Unit Model is a 2023 Coachmen Freelander 26RS

No Pets Allowed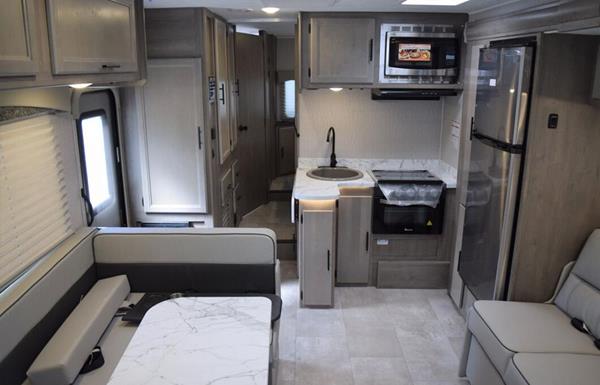 Black and Gray Water Tanks
Bathroom with Handheld Shower
Frequently Asked Questions
The inventory for each unit includes the following kitchen set:
Coffee Maker
Toaster – 2 Slice
Tea Pot
Kettle
Coffee Pot – Perc.
8 Each Dinner Plates, Bread & Butter Plates & Bowls
8 Each Coffee Cups, 6 Large Glasses, 6 Small Glasses
6 Wine Glasses
8 Each Knives, Forks, Dinner Spoons, Teaspoons & Steak Knives
5 –Kitchen Knives (Set)
3 Plastic Containers W/Lids
3 S/S Bowls
1 Colander, 1 Grater
2 Turners, 2 Tongs, 2 Spoons, 2 Spatulas
1 Ladle, 1 Slotted Spoon, 1 Potato Masher
1 Pasta Fork, 1 Fork, 1 Pastry Brush, 1 Whisk
1 BBQ Lighter
1 Can Opener, 1 Cork Screw, 1 Potato Peeler, 1 Scissors
1 -Measuring Cup, 1 – Set of Measuring Cups, 1 -Set of Measuring Spoons
1 Water Jug
1 – Salt & Pepper
1 – 12' Pot
1 - 9" Pot
2 -6" Pots
1 -8" Fry Pan, 1 – 10' Fry Pan
1 -12" Fry Pan
2 Cutting Boards
4 Placemats
Tablecloth & Hooks
Oven Mitts
2 Tea Towels, 2 Dish Cloths
Dish Tray
Broom & Dustpan
Toilet Bowl Brush Set
Large Outdoor Carpet
We generally don't offer motorhome deliveries at this time. Availability is very limited. However, you can contact us to ask if your time is available.
Note: Delivery is performed by a third-party delivery service. A motorhome delivery requires two drivers and an additional vehicle. Costs may start at $15/km with a $300 minimum.
While we have occasionally performed one way trip pickups, we have VERY limited availability for this option.
Additional charges will include expenses such as additional rental days, transportation (e.g. flights and travel to unit), fuel, etc.
Call us at 844-760-0004 or contact us to request availability and a quote.
Pick up times are 1pm to 4pm.
Dropoff times are 9am to 11am.
Early pickup (10am) and late dropoff (2pm) is available for an additional charge. You can choose your time during booking.
If you wish for an early pick-up please contact us at least 48 hours prior to departure. Early pick-ups are subject to an additional charge.
Note: Pick-ups the night before are subject to an additional nights rental and subject to availability.
All RV units are prohibited from traveling on dirt roads (excluding campground roads).
We do make some exceptions where traveling on short sections of dirt roads are necessary to reach a Campground. Written permission is required. (e.g. Mabel Lake Provincial Campground)
Renters are responsible for any damages of RVs.
Explore the exciting optional add-ons available to choose from that can enhance your trip and make it even more memorable. There's sure to be an add-on that sparks your interest and gets you even more excited for your upcoming RV adventure.
Note: Select Your Addons During Checkout
$60 per Rental
Linen and Towels Kit
Includes: 2 pillows and cases, 1 fitted sheet, 1 flat sheet, comforter, 2 bath towels, 2 hand towels, and 2 facecloths
$3 per Day
1 Person Hammock
Includes: Hammock, tree straps and carabiners.
Super popular with kids
$4 per Day
Kelty Camping Chair
Includes: Chair and carrying case
High quality, comfortable chair is perfect for relaxing by the campfire.
$10 per Day
Portable Coleman BBQ
Includes: BBQ and 1 bottle of propane
Large grill space for cooking
Low Season (Apr 1 to Jun 14, Sept 8 to Oct 31)
$375/night - Min. 3 nights
$20/night discount for rentals longer than 7 nights
High Season (Jun 15 to Sept 7)
$425/night - Min. 5 nights
$20/night discount for rentals longer than 7 nights
Rental Deposit: 25% of rental amount or $150 (whichever is greater)
Security Deposit: $1000 (your credit card will be authorized 2 days prior to departure)
Important Times to Note:
Pick-Up: 1pm to 4pm
Return/Drop-off: 9am to 11am
Need More Time?
Early Pick-Up - $75 (Pick-up at 11am)
Late Drop-Off - $75 (Drop-off by 2pm)
Get Both - $100
Selectable on the "addons" page of your booking