28′ Hideout Travel Trailer
Bring the whole family! There's plenty of space for everyone in this trailer. Furnished with a kitchenette, dining area, convertible sofa, bathroom, queen sized bed and a large double bunk bed. The Hideout is perfect for large group getaways.

No Pets Allowed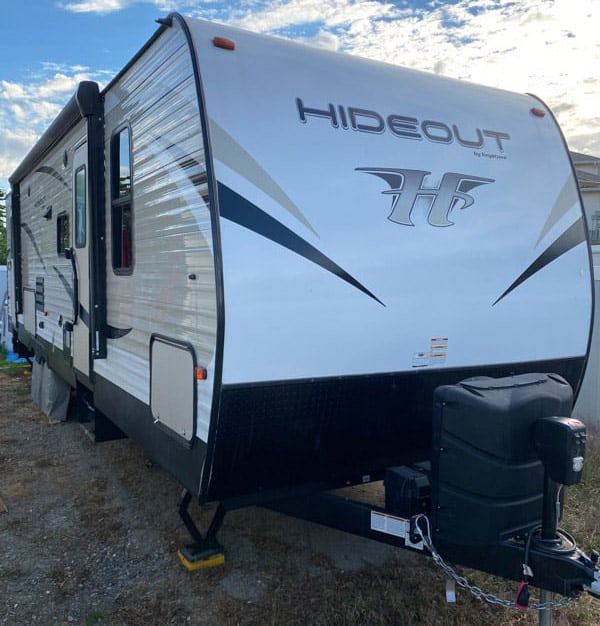 Fresh Water - 163L (43 gal)

Gray Water - 261L (69 gal)

Black Water - 147L (39 gal)
Bathroom with Handheld Shower

Generator Rental Available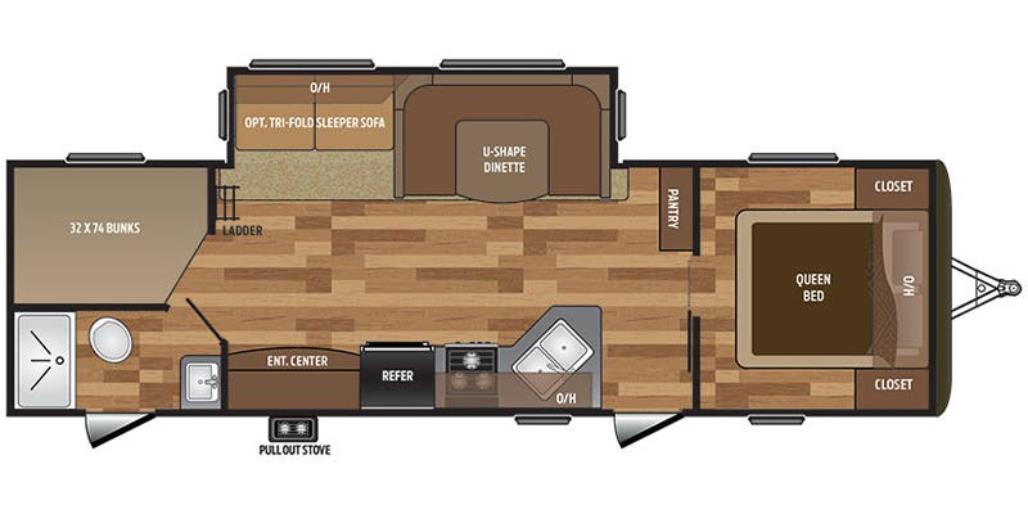 Frequently Asked Questions
Yes, we offer travel trailer deliveries south to Summerland, North to Vernon and East to 8 Mile Ranch. Estimated prices include 2 trips and 1 hour total for setup/takedown.
Within Kelowna City Limits – $100
Estimated Costs for deliveries outside Kelowna
Exact costs will be determined once exact destination is provided
North
Lake Country – $150
Oyama – $175
Vernon – $275
South
West Kelowna – $150
Peachland – $225
Summerland – $325
East
Heartland Ranch (8 Mile Ranch) – $125
Delivery outside these zones can be done through a third-party towing company. Cost range from $1.25 to $1.50/km plus time for setup/takedown.
Yes, you will require a brake controller for this trailer
Brakes are required if the trailer exceeds 1400 kg, or more than 50% of the licensed vehicle weight of the towing unit. When brakes are required, they must be on all axles and there must be an operational breakaway on the trailer in case the towing unit and trailer separate while being towed.
Check your vehicle's owner manual to confirm
Rent a Brake Controller
If you do not have a brake controller then you can rent a controller from RVR Kelowna @ $75/rental
All you need is a 7 pin connector.

See details about the controller in this video.
Coffee Maker
Toaster – 2 Slice
Tea Pot
Kettle
Coffee Pot – Perc.
6 Each Dinner Plates, Snack Plates, Bread & Butter Plates & Bowls
6 Each Coffee Cups, 6 Large Glasses, 6 Small Glasses, 4 Wine Glasses
1 – Salt & Pepper
2 – Cutting Board
1 – Water Jug
4 – Plastic Containers
2 – Large Bowls, 1 – Colander, 1 – Grater
6 Each Knives, Forks, Dinner Spoons & Teaspoons
6 Steak Knives
4 –Knives – Set
1 Spoon, 1 Slotted Spoon, 1 Ladle, 1 Lifter, 2 Tongs
1 Potato Masher, 1 Fork, 1 Whisk, 1 Pastry Brush, 1 Spatula
1 – Lighter
1 Each Can Opener, Cork Screw, Potato Peeler, Scissors
1 –Measuring Cup, 1 Set Measuring Cups, 1 Set Measuring Spoons
1 –12" Fry Pan
1 – 12" Pot
2 – 6" Pots
2 – 8" Fry Pan
4 – Placemats
Tablecloth & Hooks
Oven Mitts
Drain Tray
Outdoor Carpet
Broom & Dustpan
Low Season (Apr 1 to Jun 23, Sept 8 to Oct 31)
$180/night - Min. 3 nights
$10/night discount for rentals longer than 7 days
High Season (Jun 24 to Sept 7)
$195/night - Min. 5 nights
$10/night discount for rentals longer than 7 days
Rental Deposit: $750 required at time of booking
[booking type='37' nummonths=3 options='{select-day condition="season" for="High season" value="6-31"},
{select-day condition="season" for="High Season Start" value="6-31"},
{select-day condition="season" for="High Season End" value="6-31"},
{select-day condition="season" for="Low Season Spring End" value="4-31"},
{select-day condition="season" for="Low Season Fall Start" value="4-31"},
{select-day condition="season" for="Low season" value="4-31"}' form_type='smallc' label='RV to Rent  ' first_option_title='Please Select']